February 10th, 2013
"Ann Arbor Mid-Century Architects and Domestic Architecture"
Speakers: Nancy Deromedi
 and Grace Shackman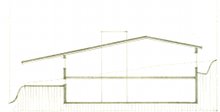 Nancy, archivist at UM's Bentley Historical Library and co-founder of a2modern, and Grace, author of Ann Arbor Observed, will discuss Ann Arbor's remarkable collection of post-war architect-designed homes in the style known as modern.
LOCATION: Kempf House Museum
312 S. Division St., Ann Arbor, MI 48104
734-994-4898 www.kempfhousemuseum.org
TIME: noon to 1:00 P.M.
Cost: Admission, $2.00 (members, $1.00)
---
Comments RSS Both comments and pings are currently closed.