May 2nd, 2016 by Jim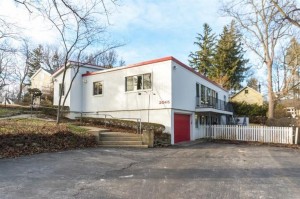 Saturday, May 14th, at 2 PM, 3 PM and 4 PM
This is the first modern home that Wells Ira Bennett designed, although at that time, 1953, he'd designed almost thirty houses in more traditional styles. He is best remembered for hiring a group of stellar modern architects while dean from 1938 to 1957 of U-M's College of Architecture.
Bennett arrived at U-M in 1912 as an instructor and rose to leadership through his early interest in low-cost housing and city planning. As a practicing architect, Bennett was active after 1921, developing a considerable residential practice, mainly with faculty clients.  His first project was a home for himself and his family at 500 Highland. He kept busy in the 1920s and early 1930s, designing homes in the styles of the time, mainly Tudor and Colonial Revivals.  He stopped during the Depression, when few could afford to build, and then became too busy in his years as dean.
Taking over the deanship from Emil Lorch, he followed Lorch's example of encouraging new ideas and modern styles.  He invited many of leading architects of the day to participate in seminars and conferences.  After WWII, he began hiring some of the stars of  Modernism, luring both Walter Sanders and William Muschenheim from successful practices in New York City, and Edward Olencki and Joe Albano, both of whom studied under and then worked with Mies van der Rohe, from Chicago.  He also hired talented U-M grads such as Robert Metcalf and Tivadar Balogh.  These hires not only brought prestige to the U-M architecture school but built many fine examples of modern architecture in the Ann Arbor area.
In 1953, as Bennett was nearing retirement, and after a long hiatus, he designed a house, this one again for himself.  He sited it on the front lawn of his first house, on land that sloped down to Geddes.  Although this was his first modern house, he had by then seen many examples from the rest of the faculty and of course had a dream group of colleagues to advise him if he had questions. Bennett died in 1966.
Barbara and Rueben Bergman bought the house in 1980 from Sybil Bennett's estate and moved in with their three sons. They made the house their own –enlarging windows, reconstructing the side balcony so it would be safe, enlarging and improving the master bathroom, making a closet out of a hallway for more storage, while still keeping the totally modern feel and in fact improving it with more natural light pouring in. The most interesting change is a small room with a tower added to what was basically a galley kitchen.  Designed by Janet Attarian, it not only makes the interior feel more roomy, but gives the outside of the house more pizazz.
For tickets go to a2modern.myevents.com
Grace Shackman and Jeffrey Welch.
Photo courtesy of Carolyn Lepard
---
April 26th, 2016 by Jim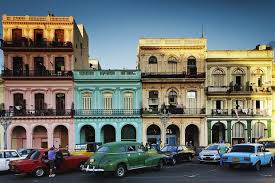 Back, by popular demand -
Modern Cuba:  Slideshow by Howard Shapiro

May 7, 3-5 PM:  Slide show starts promptly at 3:30 PM

Cost: $15: Proceeds will go toward upgrading our website.
Last October Howard participated in a do.co.mo.mo-US sponsored tour "Modern Cuba." The architecture of Havana from the colonial area to the present was surveyed with an emphasis on the modern era prior to and following the revolution, including interior visits to numerous structures not open to the general public. Howard's slideshow demonstrates the relationship of changing architectural styles to corresponding social changes and major historical events. Highlights include the Tropicana Cabaret (Max Borges Recio, 1951-1956), the Alfred de Schulthess House (Richard Neutra, 1956), and the National Art Schools (Ricardo Porro, Vittorio Garatti and Roberto Gottardi, 1960-1964).
To purchase tickets go to a2modern.myevent.com
---
April 2nd, 2016 by Jim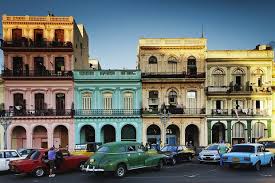 Modern Cuba:  Slideshow by Howard Shapiro in his 1965 Alden Dow house, 7 Regent Drive
April 16, 2-5 p.m.:  Slides at 3 with tours of the house before and after.
Cost: $20: Proceeds will go toward upgrading our website.
Last October Howard participated in a do.co.mo.mo-US sponsored tour "Modern Cuba." The architecture of Havana from the colonial area to the present was surveyed with an emphasis on the modern era prior to and following the revolution, including interior visits to numerous structures not open to the general public. Howard's slideshow demonstrates the relationship of changing architectural styles to corresponding social changes and major historical events. Highlights include the Tropicana Cabaret (Max Borges Recio, 1951-1956), the Alfred de Schulthess House (Richard Neutra, 1956), and the National Art Schools (Ricardo Porro, Vittorio Garatti and Roberto Gottardi, 1960-1964).
To purchase tickets go to a2modern.myevent.com
---
April 2nd, 2016 by Jim
The Detroit Area Art Deco Society is sponsoring a Michigan Modernism Exposition Preview party on Friday, April 8, 2016.
The 36th Annual Michigan Modernism Exposition will feature premier national dealers offering furniture, decorative and fine arts representing all design movements of the 20th century.
Each year the Detroit Area Art Deco Society cues up their biggest fundraiser of the year with an Annual Preview Party. Break out your best 1960s party attire in tribute to Detroit's 1960's supper clubs and sip a complimentary Tom Collins.
This year DAADS sets the stage with the theme celebrating a "Night on the Town: A Salute to Detroit's Historic 1960's Dining Spots."
Take a trip down memory lane while you're visually presented with Jeffery Bladow's vintage 1960 Cadillac ready to roll with fashions from Leah's Closet styled to the 1960s, Detroit's own DJ Dave Lawson spinning vinyl tracks that he's hand-curated from stacks of Detroit 45s from the 50s and 60s to set the tone for the evening.
On display will be a fabulous collection of vintage menus and collectibles from Detroit dinning spots presented courtesy of George Bulanda. George's personal collection was recently presented in Hour Detroit and his collection contains iconic venues like the London Chop House, Little Harry's, and the Pontchartrain Wine Cellars. Our curator, Rebecca Savage's favorite "Top of the Flame" once high a top on the 26th floor of the Mich Con Building. Several other personal collections will be on display and will take you back to those glamorous and slightly crazy nights in Detroit hitting all your favorite dinning spots.
Stroll aisle upon aisle of mid-century finds designed by such greats as Frank Lloyd Wright, Louis Comfort, Tiffany, Herman Miller, Heywood Wakefield, the Stickleys, and so many other talented designers representing the Art Deco, Art Nouveau, Prairie, Arts and Crafts, Surrealistic and Neo-Classical Schools of Design.
Serious collectors will be thrilled to preview the show before the public opening on Saturday morning, while others will be content to sip wine, sample the sumptuous food and enjoy the music. It's a spectacular evening for all.
Preview Party Tickets are on sale and may be purchased for $65 in advance and this year DAADS is excited to announce our New Collector ticket of $30 under 30. Tickets are available by visiting the Detroit Area Art Deco Society website at www.daads.org
The Michigan Modernism Exposition Preview Party
Friday, April 8, 2016, 7:00 p.m. – 11:00 p.m.
Southfield Pavilion, 26000 Evergreen Road, Southfield, MI 48076
The Detroit Area Art Deco Society is a private not-for-profit corporation founded in 1986 by a group of collectors and enthusiasts interested in the decorative objects, architecture, preservation and design of the Art Deco period. The non-staffed organization is operated by a highly dedicated Board of Directors and a committed pool of on-call volunteers, providing education, documentation and design assistance to the community. www.daads.org
---
March 29th, 2016 by Jim
More than twenty brave souls made it to Martin Schwartz's talk on Gunnar Birkerts, in spite of the dangerous driving conditions of the last big snow of the season.   Schwartz spoke on Birkerts' unique methods of bringing light into his buildings.  We learned not only about specific Birkerts' buildings, some not well-known, but also gained a great appreciation of the challenges of bringing in light with which all architects wrestle.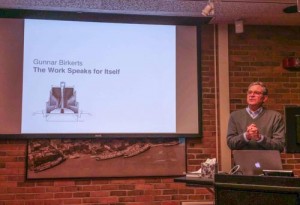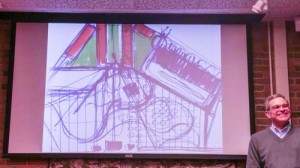 ---
January 26th, 2016 by Jim
In his talk on March 1, Martin Schwartz will discuss his first conversations with Gunnar Birkerts about his work, researching in the Birkerts collections at the University of Michigan Bentley Library, and how this led to the book, Gunnar Birkerts: Metaphoric Modernist.  He will concentrate his remarks on his and Gunnar's shared interest in how architecture and daylight work together to make great spaces and enhance the experience of architecture, ideas that Gunnar addressed throughout his professional career.
The lecture will take place on March 1, at 7 PM in the Whiting Room of the Bentley Historical Library, at 1150 Beal Ave., Ann Arbor, MI  48109.
Martin Schwartz is an architect as well as an Associate Professor and Associate Chair at the Department of Architecture at Lawrence Technological University.  He is the author of the architectural essays in the book, Gunnar Birkerts: Metaphoric Modernist (2009), an anthology of the architect's career in design.
Martin's research concerns daylight and its broad influence on architectural and urban design, specifically how a knowledge of daylight enables architects and urban designers to make a range of design decisions far beyond meeting minimum illumination standards.  His current scholarship focuses on how daylight influences the making of architectural space and form.  Martin writes a blog about daylight, Architecture in the Light of Day, which may be found at www.architectureinthelightofday.blogspot.com/.
Martin was the Willard A. Oberdick Fellow at the Taubman College of Architecture and Urban Planning at the University of Michigan in 1991-1992.   In 1994, he was the Frederick Charles Baker Distinguished Professor in Lighting at the Department of Architecture at the University of Oregon.
---
January 15th, 2016 by Jim

The University of Michigan Museum of Art has published Three Michigan Architects: George B. Brigham, Robert C. Metcalf, David W. Osler as a follow up to the exhibits they presented in 2013 on the work of these three men.  The text is by the head of the museum, Joe Rosa, and Nancy Bartlett, associate director of the Bentley Historical Library.  The illustrations that demonstrate the work of these architects will be of interest to a2modern members as a number of the examples are homes where we've hosted open houses.    It is touching that they've dedicated the book to Nancy Deromedi, founder of a2modern, who we still very much miss. The book is available at the art museum store or by mail order.  Below is the official description and ordering information.
_________
UMMA is pleased to announce the publication of Three Michigan Architects: Brigham, Metcalf, and Osler.  Featuring essays by Joseph Rosa and Nancy Bartlett, this 68-page fully-illustrated catalogue explores the domestic work of three seminal Modern architects who practiced in Ann Arbor from 1930 to the 1980s: George Brigham, Robert Metcalf, and David Osler. Three Michigan Architects examines each practitioner's interpretation of the Modern vocabulary.  The catalog situates their regional body of work in the larger context of Modern architecture in the U.S. that developed on the East and West Coasts.  Featuring archival plans, drawings, and photographs from the Bentley Historical Library, this catalog is the culmination of the 2014 exhibition series and symposium of the same name.
$18.00
UMMABooks, December 2015
Joseph Rosa, Nancy Bartlett, David Choberka, Antje Gamble
Available for purchase online at store.umma.umich.edu, and at the UMMA Store.
---
September 30th, 2015 by Jim
We are hosting our first ever tour of a home designed by George Brigham on October 18. Tickets are $15 and may be obtained at http://www.a2modern.myevent.com/ .
When Chris Conlin bought this 1956 George Brigham house 18 months ago, it still had its beautiful clean mid-century modern lines, but was almost 60 years old and needed attention.  Chris kept the footprint and exterior exactly as it was, but did extensive work inside to update it and make it his own.
The house's architect, George Brigham (1899-1977), is considered Ann Arbor's father of mid-century modernism.  He trained at MIT in the prevailing Beaux Arts style, but when he taught at Cal Tech he became interested in the architecture emerging in California, especially homes by Greene and Greene, Schlindler, and Neutra.  When he came to U-M in 1930, he was anxious to work in the new style, although it took a few years to get commissions since it was the midst of the Depression. He ended up designing 66 buildings in the Ann Arbor area, concurrently with teaching. He was a champion of this style, often giving speeches on its virtues.  He was also interested in social issues and worked on developing affordable housing and temporary shelters.
Highland Lane's development was a joint project of Brigham and his wife Ilma with Madeline and Fred Hodges, the latter chair of the U-M radiology department and an assistant dean in the Medical School.  In 1957 the two couples bought from Margaret and Robert McNamara (soon to be U. S. Secretary of Defense) a parcel of land that ran behind Highland Street and was part of the grounds of their house at 210 Highland.  The Brighams and Hodges put in a road and installed utility lines prior to selling lots.
The Hodges kept the two end lots for themselves while the adjoining ones were sold to Richard and Ann Kennedy and to Charles and Katherine Sawyer.  Brigham designed houses for all three couples,  taking care to position them so they couldn't see into each other's homes.   A fourth house was later designed by David Osler, following the deed restriction that all homes had to be designed by an architect.
Chris is happy that he was able to buy the Hodges house, fearing that someone else might have bought it just for the lot, which is in a prime location near campus.  "I've kept the modern feel, I've nothing ornate," says Chris, explaining his guiding principal on what turned out to be a year-long job, including putting in new wiring, air conditioning, and insulation.   He kept the original windows and skylights so the house if full of light.  The original fireplace is still the heart of the house. Chris took down several walls which add to the free flowing modern look including making two bedrooms into one, moving a free standing hall closet out of the way, and opening up the kitchen.  He added more storage to keep down the clutter and put in light trays on the living room ceiling so no lamps are needed.  He has followed this aesthetic by choosing furniture with clean lines.  Chris cleared out the overgrown backyard, so the windows now look out on grass and trees and the new patio.
written by Grace Shackman
---
August 26th, 2015 by Jim
There will be an open house and tour at the home of Lesa and Michael Huget on Sunday, September 13th. Tickets are $15 and may be obtained at http://www.a2modern.myevent.com/ .
"The house is most desirable for its fine stand of evergreen trees and view over Barton Pond," wrote Robert Metcalf, describing the home he designed in 1955.  It was only his seventh house, but already he had developed the skill of siting buildings on difficult pieces of land. "Sloped up quite steeply from the street in a rough bowl shape, the area where the building was possible was quite small," he explained. Metcalf decided to nestle the house up against the trees with a view down to Barton Pond to make it seem like a "lake cottage year around."
His clients were Jessie Forsythe, founder of the Forsythe Gallery, the first art gallery in town, and Franklin Forsythe, a lawyer, who had very specific ideas of what they wanted. The living room, dining room, and kitchen that flow into each other and look out on to Barton Pond, were designed as a "dignified, gay, open space for casual entertaining," per the Forsythe's request.  The master bedroom looked out on to a patio.   Their two sons' basement bedroom had direct access to the car port so they could pursue their hobby of working on cars.  Since Jessie had originally wanted to have her art gallery in the house, Metcalf created space for one, also in the basement, with a separate entrance. (When zoning laws prohibited this she opened it in Nickels Arcade.)  The walls throughout the house were painted white to show off the Forsythes' personal art collection of paintings, ceramics, and sculpture.
By the time Lesa and Michael acquired the house two years ago, it had been altered in unsympathetic ways by interim owners and also showed the signs of almost 60 years of wear, but they could see the bones of a dream house and were happy that they were able to purchase it instead of a second bidder who wanted to buy it for the view and tear it down.
The Hugets hired architect and U-M professor Craig Borum to help them bring the house back to what it could be. Borum had been a student of Metcalf's and consulted with him on the project. "With the larger ambition of preserving this legacy, the existing state of the house required both structural and aesthetic improvements" explains Borum, adding "The interventions were all executed as closely to the original plans with the additional consideration of efficiency and sustainability." Borum received an honor award from the Michigan American Institute of Architecture for this project.
They started by removing the overgrown vegetation in the front yard, which was so high that the house was advertised as having "seasonal views" meaning that the pond could only be seen when the leaves were off the trees. The next job was to repair the deck on the front of the house so they could enjoy the view. "It was scary," says Lesa.  "It was slanted and you could see down to the ground." They extended the deck to the side of the house and brought the railing up to code by making it higher. Inside, they took out several levels of flooring and replaced it with cork, which is soft on feet and very sustainable.  In the living room they took out the later addition of a traditional fireplace mantle to reveal the original marble one.  The walls, which had aged to a dull white, were re-painted throughout by Kate Lazuka in period-appropriate colors that make the beauty of the rooms pop out.
The biggest change was in the lower level rec room, which "didn't even feel part of the house," according to Lesa.  But new paint, an added window, period-inspired built-ins designed by Craig Borum, and period appropriate furniture brought it back to what it could be.  Lesa knew they had succeeded when a contractor said "It makes me want a martini."
---
July 1st, 2015 by Jim

There will be an open house at this unique home on August 9th. Tickets for the 2 PM or 3 PM event are $15 and may be obtained at http://www.a2modern.myevent.com/ .
Think of a 90° angle tilted left 15° and you have the framework for this 1968 house. "With limited resources we certainly got an unusually interesting house," says Andrew Nagy, who with his then-wife Joan Nagy, hired modern architect Tivadar (usually called Tiv) Balogh to design a house on a lot that they had purchased in Huron River Heights.
Neither of the Nagy's had much experience with houses—Joan was just 22 and Andrew had always lived in apartments, so they were open to new ideas. "When he [Balogh] said he had always wanted to build a trapezoidal house we said 'why not?' We loved the way the house turned out," says Joan. Balogh had been in private practice just six years when he accepted the Nagy commission in 1967. Prior to that, he had worked six years as a draftsman for Robert Metcalf, another U-M architecture school graduate who was also a modernist.
The Nagy's developed a close working relationship with Balogh, who they came to admire and like. After tweaking the plan to their liking, Balogh oversaw the construction. At first the Nagy's did not think they needed eating areas in both the kitchen and dining room, but Balogh convinced them otherwise. "He said his kids were in the 'food throwing stage' and that a separate area was needed," recalls Andrew. The plan had an option for a copper roof, but that turned out to be equal to the cost of the rest of the house, so they substituted cedar shakes.
Balogh achieved both privacy and light for the house by having the roof go all the way to the ground on the driveway side and putting large windows on the front and back. The Nagy's loved the fireplace that Balogh designed for them. Made with Chicago common brick, which are smaller and a lighter color than traditional ones, it's the focal point of the living room and goes up two stories.
In the ten years they were in the house, the Nagy's made only one major change, which was to enclose the balcony in their bedroom. Joan liked being able to see out part of the living room windows, but when their children got to the age when they liked to jump on the bed, both Nagy's worried about whether it was safe.
When the Nagy's needed more room they thought of adding on but found it too expensive, so they hired a builder to construct another house for them. They were able to replicate the fireplace in their new home, but other features like the vertical grained wood doors and tongue in groove cedar proved to be too expensive by then.
Kelly Salchow MacArthur, the present owner with her husband Jay MacArthur, has the same positive opinion of the house that the Nagy's had. "It's mid-century but not low and flat," she says, adding "I like the angles, the way the rooflines affect the rooms. I love the interesting way the built-in shelves mimic the outside proportions." She and Jay have kept the modern look by not over furnishing the house, an endeavor helped by the fact that there are many built-ins. For new furniture they have focused on the classics such as Eames and Bertoia. Kelly's design work hangs throughout the house. Be sure and note the mailbox in front of the driveway that she designed to relate to the house.
.written by Grace Shackman
---